Our current understanding of the rich history of quilting in Minnesota is largely due to the Minnesota Quilt Project (MQP). MQP participants conducted Quilt Discovery Days at various cities and towns throughout Minnesota in the late 1980's and 1990's. Some of those quilts were featured in the book "Minnesota Quilts: Creating Connections with Our Past." MQP has continued to document quilts for individuals and for public institutions; more than 4000 quilts have been documented. The documentation information has been made available on the public database The Quilt Index based at Michigan State University.
The Minnesota Quilt Project is a standing committee of Minnesota Quilters, Inc. that reports to the Minnesota Quilters' Board of Directors.   Leadership of the MQP committee is determined each year by MQP participants. Any MQ member is welcome to take part in MQP meetings and activities. Meetings are usually held at 9:00 am in the Bill Wilson room, before the Saturday MQ meeting. Contact [email protected]
MQP participants are quilt lovers who are interested in one, some, or all of the following:
Preserving quilts and quilt history
Understanding the historical significance of quilts
Learning about the fabrics, tools, and methods used in quilt making
Collecting and preserving the stories of quilt makers yesterday and today
MQP Mission Statement:  Preserve the Past; Understand the Present; Create for the Future
MQP Goals and Projects:
Identify and document quilts that have a Minnesota connection (quilt documentation)
Preserve photographs and information that MQP has collected (maintain documentation records)
Make our collected data available to interested parties (transfer information to The Quilt Index; post information on MQP website; facilitate review of documentation records by interested persons)
Disseminate information on the history of quilt making and quilt makers (MQP booth at The Minnesota Quilt show)
Collect and share the stories of Minnesota quilters  ("Remember Me" stories in the MQ newsletter and website)
Please watch this video to learn more about the MQP history, mission, and activities.

American Quilt Study Group (AQSG)
The American Quilt Study Group (AQSG) was founded in 1980 and is one of the oldest and largest member organizations dedicated to quilt related studies in the world.
Minnesota Quilters, Inc. has been a group member of AQSG for many years. Copies of the yearly "Uncoverings" volumes on quilt related research are housed in the reference section of the Textile Center Library.
Click the title or the "+" to view one of AQSG's quilt-related videos.
The Minnesota Quilt Project has documented over 4,000 quilts in Minnesota. We have been working with The Quilt Index, a database containing information and photos of quilts from all over the country. The Quilt Index is a growing, national research and reference tool designed to provide unprecedented access to information and images about quilts held in private and public hands.
To see the Minnesota quilts, use this direct link to the Quilt Index.
Minnesota State Quilt Book
"Minnesota Quilts, Creating Connections to Our Past" is a unique treasury of exceptional quilts, fascinating quilters, and their stories from the Minnesota Quilt Project, whose members traveled the state for nearly twenty years, photographing and documenting quilts and interviewing quiltmakers. The result is a collection as varied and expressive as the makers themselves. From early pioneer days to the 1970s, these quilts, showcased in glorious full-color photographs, span a significant era of Minnesota and reflect our distinctive heritage. Whether you're a quilter or someone who has a love of quilts and their history, this collection of Minnesota's extraordinary patchworks will help you create connections with your past.
The story of the quilts is told through glorious color photographs, vintage black and white images and detailed, informative text. Drawing on oral interviews with quilters and the close study of Minnesota's classic quilts, MQ members Gail Bakkom, Jean Carlton, Patricia Cox, Laura Jelinek, Linda Kosfeld, Jean Loken, Elise Roberts and Kelly Willis explore the connections quilts have had to our history, our families and our everyday life.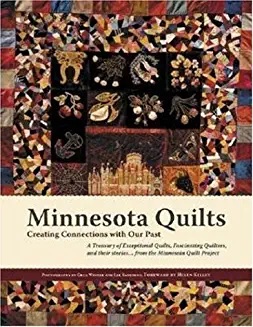 Hardcover: 192 pages
Publisher: Voyageur Press; First Edition edition (May 30, 2005)
ISBN-10: 0896580792
ISBN-13: 978-0896580794